Accident-proof your devices
With accidental damage and breakdown cover from Sky Protect, you can relax knowing your devices and Sky equipment are covered for life's little mishaps.
Policy starts from £9 a month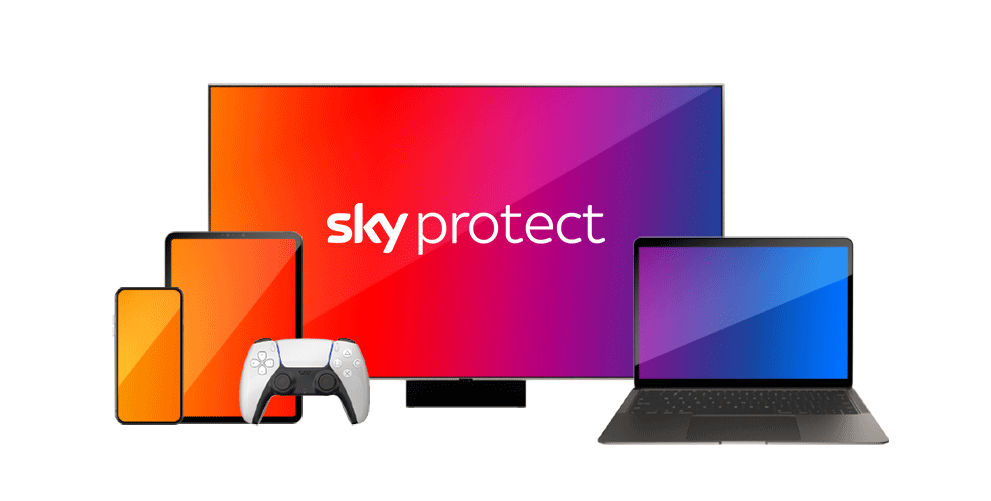 Cover your devices and Sky equipment for as long as you need to
Why choose Sky Protect?
Continuous cover for your chosen devices and all Sky equipment in your household

Accidental damage and breakdowns

Unlimited repairs and replacements.

Exclusive next-day priority service for your core Sky equipment*
Cover is available for TVs, mobile phones, laptops, tablets, and games consoles. Your devices must cost less than £2,000 when new and be in good working order. Mobile phones must be no more than 3 years old. If you make a claim for a mobile phone, there will be a £75 excess.
*Tell us about a problem by 4pm, and if we can't fix your core Sky equipment the next day, we'll refund you a week's Sky TV subscription. Excludes special heights and premises difficult to access safely, North Highlands, and Islands.
Endorsed by Sky, tailored by you
Sky Protect is the only insurance that's endorsed by Sky. You'll pay a monthly fee with no fixed-term contract, giving you protection for as long as you like.
Sky Q

Cover your Sky Q equipment and three devices of your choice
Sky+HD

Cover your Sky+HD equipment and two devices of your choice
Devices only

Cover three devices of your choice